Monthly Art Blog, Stories and Tips from the Field
Hi everyone! this month  Ive got a new 2018 calendar out and due to popular demand I will have the caravan calendar available again in a few weeks time. I have also got some Summer Holiday Caravan prints getting made up so they are now available on my website. Theres another exhibition coming up at The Packing Shed in Clyde, the theme is water, sky, mountain, so Ive decided to do some more Aurora Lights ones. Im also busy every second week selling my art at the Cromwell market. My mini's are proving to be popular and larger works too, so Im keeping up with that. I still have time for my garden, love being outdoors, and plan to do some more outdoor painting soon. I have made a short video for you of an impressionist sky, sorry my hand is in the way a bit, will know next time to film from another angle. Its a bit of a mission for me to do it as I have limited power and internet being off the grid, but I want to try and do one once a month If I can. Have a great month! xx
New Calendars coming soon!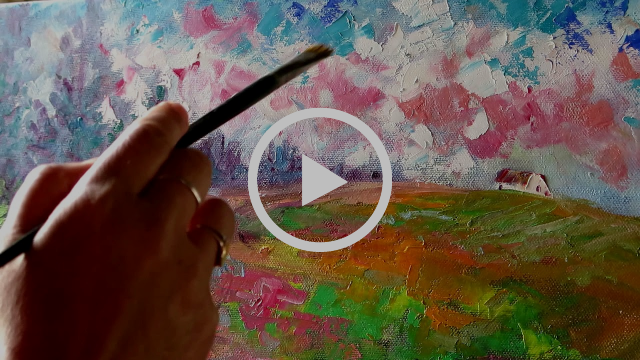 Quick video on painting an impressionist sky.
In this video I am painting over a dry layer, once Ive added more colour with the palette knife I then soften and blend it with the brush. I like to leave bits that are still rough but a bit of softening makes it better I think.
The one on the left is Otago Wildflowers, and on the right, Bush Treck. 
View of Leaning Rock, Dunstan Ranges, from our place.